---
---
Celebrity Body Types: Iggy Azalea (Amethyst Amelia Kelly)
---
The Four Body Types Scientific Identification: Body Type Two, BT2
Female/Woman
Genetically Underdeveloped Vertebrae (Muscles/Muscle Mass): 1 to 8; Lumbar, Sacrum, Coccyx (Possibly Thoracic)
Date of Birth: June 7, 1990
Age: 32 (as of 2022)
Unscientific/Nonsense Body Types Rough Correlations: Endomorph, Kibbe/Soft Natural, Hormone/Ovary
---
---
Celebrity Iggy Azalea shows off her Body Type Two (BT2) shape figure/physique while taking time off at the ocean with friends and family, including her ex-fiancee Playboi Carti. The full
development of her lumbar and sacrum vertebrae and related muscles/muscle mass is debatable. The candid images reveal some skinny fat (cellulite, thin fat, loose skin, saggy skin, crepey
skin, normal weight obesity) on no less than her upper
legs,
buttocks, and lower back, indicating she most likely has at least slightly underdeveloped sacrum and coccyx vertebrae and probably a few lumbar vertebrae, along with perhaps a thoracic vertebra or two.
Science recognizes that one pound of muscle mass burns six calories daily, but one pound of skinny fat/fat burns only two to three calories daily. Which directly affects metabolism (the more skinny fat and fat, the slower the metabolism). The mostly developed vertebrae, muscles, and muscle mass across the majority of her BT2 is an advantage that Body Type Three (BT3) and Body Type Four (BT4) human bodies (female or male) generally lack.
Diet, exercise, lifestyle, metabolic rate (BMR), and BMI matter. But so do genes/genetics/DNA. It will be interesting to see how well Iggy Azalea maintains her body shape figure/physique as she continues to age.
---
---
---
Iggy Azalea Figure/Shape – BT2
Grammy Award-nominated star rapper and musician Iggy Azalea enjoys time off in her Body Type Two shape/figure. Her entertainment career began upon moving from Australia to the United States at the age of 16,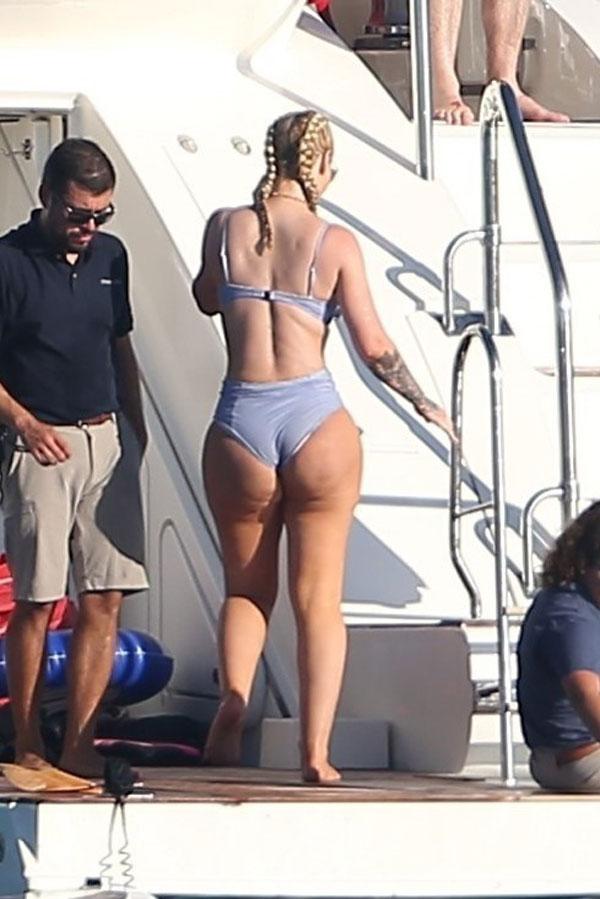 subsequently earning public recognition after releasing the music videos for her songs Pussy and Two Times on YouTube to swift popularity. She then released her first mixtape in 2011, Ignorant Art. That led to her initial breakthrough, signing a recording contract with American rapper T.I.'s Grand Hustle label. She eventually left to work with Def Jam Recordings in 2013.  
Releasing the debut studio album The New Classic in the spring of 2014, it peaked inside the top five on charts in the United States, Australia, and the United Kingdom. The single Fancy featuring Charli XCX reached Number One (1) on the US Billboard Hot 100, becoming the Guinness World Record for the most weeks at Number One (1) on the US singles chart for a rap single by a female artist, and peaked within the top five charts of Australia and the United Kingdom. Black Widow featuring Rita Ora hit the top five in the US and UK. In all, she has hit the Top Ten (10) of the Official Singles Chart on five occasions, including peaking at Number One (1) with Problem featuring Ariana Grande in 2014.
To date, she has released three studio albums, five extended plays (EPs), two mixtapes, and seventeen singles (including four as a featured artist). She received Grammy Award nominations in 2015 for Best New Artist and the song Fancy including Record of the Year and Best Pop Duo/Group Performance as well as Best Rap Album for The New Classic.
Grammy Award-Nominated Star Rapper/Musician Iggy Azalea Body Type Two Shape
Expanding her horizons to television, in late 2012 she made her inaugural US national TV appearance alongside T.I., B.o.B and other Grand Hustle artists at the 2012 BET Hip Hop Awards and performed live on VH1 Divas alongside Natasha Bedingfield and Bootsy Collins, covering Deee-Lite's 1990 popular song Groove Is in the Heart. In 2016 she was a judge on X Factor Australia. Iggy Azalea's body shape figure benefits from her demanding live concert and rapping responsibilities which help increase her metabolism, thus burning more calories to keep any excess fat at bay. She has been romantically linked to American rapper A$AP Rocky and Los Angeles Lakers Basketball player Nick Young. 
Her net worth is estimated at $15 million. You can catch her on social media including Instagram, Facebook, TikTok, and Twitter. See more songwriter, model, and star rapper/musician Iggy Azalea celebrity Body Type Two (BT2) photos on Google.
Review the Body Type Science Data or take the Scientific Body Type Quiz/Test for women and men.  
---