---
---
Celebrity Body Types: Ashton Kutcher (Christopher Ashton Kutcher)
---
The Four Body Types Scientific Identification: Body Type One, BT1
Male/Man
Genetically Underdeveloped Vertebrae (Muscles/Muscle Mass): None/0
Date of Birth: February 7, 1978
Age: 45 (as of 2023)
Unscientific/Nonsense Body Types Rough Correlations: Mesomorph, Hormone/Adrenal
---
---
Celebrity Ashton Kutcher displays his Body Type One (BT1) shape physique/figure while on vacation at the ocean
with friends and family including his wife Mila Kunis. He is showing no signs of skinny fat (cellulite, thin fat, loose skin, saggy skin, crepey skin,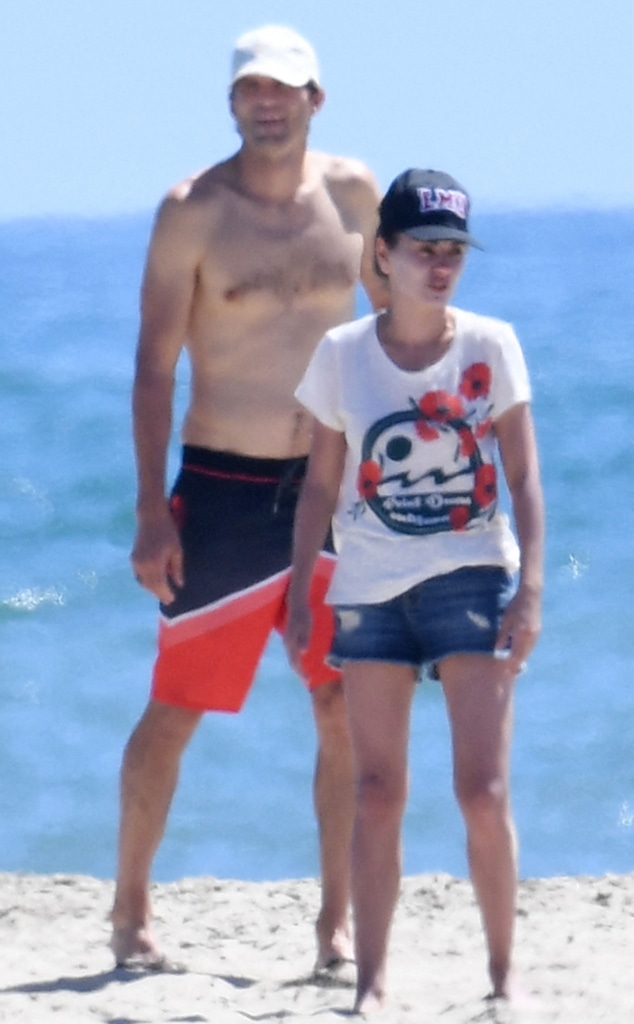 normal weight obesity) anywhere on his
body. The fully developed vertebrae (posture) and muscles/muscle mass are obvious, although they have become less defined with age.
Science recognizes that one pound of muscle burns six calories per day, but one pound of skinny fat/fat only burns two to three calories. Which directly affects metabolism (the more skinny fat and fat, the slower the metabolism). Having a strong metabolism because of all that muscle and muscle mass, no less, is an advantage that a fully developed BT1 typically offers, including aging gracefully.
Diet, exercise, lifestyle, metabolic rate (BMR), and BMI matter. But so do genes/genetics/DNA. As he continues to age, it will be interesting to see how well Ashton Kutcher successfully maintains his body shape physique/figure. Is he really a Body Type Two (BT2)?
---
---
---
Ashton Kutcher Physique/Figure – BT1
Star Hollywood actor Ashton Kutcher shows off his Body Type One shape/physique during his time off. While attending the University of Iowa, he was discovered by a model scout and subsequently entered
and won the "Fresh Faces of Iowa" modeling competition. His winnings included a trip to New York City's International
Modeling and Talent Association (IMTA) Convention, which led him to sign with Next Management modeling agency. He modelled in Paris and Milan while appearing in commercials for Calvin Klein.
Eventually relocating to Los Angeles to pursue a career in acting, his first big breakthrough came with his role as Michael Kelso in the popular FOX television series That '70s Show (1998 to 2006). He has appeared in numerous different television series episodes as well as been a producer since including Just Shoot Me (2001, NBC), Grounded for Life (2002, FOX), Punk'd (2003, MTV, executive producer), Robot Chicken (2005, Adult Swim), Miss Guided (2008, ABC), Two and a Half Men (2011-2015, ABC), Men at Work (2013, TBS), Family Guy (2016, FOX), The Ranch (2016-2020, Netflix), The Bachelorette (2017, ABC), The Boys (2022, Amazon Prime Video), and That '90s Show (2023, Netflix).
As well, he has executive produced the projects You've Got a Friend (2004), Beauty and the Geek (2005–2008), Adventures in Hollyhood (2007), The Real Wedding Crashers (2007), Pop Fiction (2008), True Beauty (2009), and Forever Young (2013), to name a few. 
Star Hollywood Actor Ashton Kutcher Body Type One
Expanding his horizons to motion pictures, he paid his dues with bit parts in the films Coming Soon (1999), Down to You (2000), and Reindeer Games (2000). His debut leading
part was in the stoner comedy Dude, Where's My Car? (2001). He is known to also produce many of his movie projects.
Over the years, he has diverse movie credits in Texas Rangers (2001), Just Married (2003), My Boss's Daughter (2003, co-producer), Cheaper by the Dozen (2003, uncredited), The Butterfly Effect (2004, executive producer), Guess Who (2005), A Lot like Love (2005), Bobby Fisher (2006), The Guardian (2006), Open Season (2006, voice), What Happens in Vegas (2008), Spread (2009, executive producer), Personal Effects (2009), Brother's Justice (2010, himself), Valentine's Day (2010), Killers (2010, executive producer), No Strings Attached (2011), New Year's Eve (2011), Jobs (2013), Annie (2014, cameo), The Man Who Saved the World (2014 documentary, himself), and Vengeance (2022). His newest film is Your Place or Mine (2023).
Businessman Ashton Kutcher Body Shape
Moreover, as a businessman, entrepreneur, and venture capitalist, he has invested in over 60 companies. The most prominent include Skype, Foursquare, Airbnb, Path, and Fab.com along with the startups Neighborly, Zenreach, ResearchGate, Duolingo, Kopari Beauty, and Lemonade. He appeared on the seventh season (2015) of the reality TV show Shark Tank as a guest Shark. Not to be outdone, in partnership with Evan Beard and Kendall Dabaghi, he launched the UberSocial Twitter client A.plus. 
As a philanthropist, he opened the international human rights organization, Thorn: Digital Defenders of Children (originally DNA Foundation), with his now ex-wife Demi Moore, which addresses the sexual exploitation of children and the proliferation of global child pornography. With his current wife Mila Kunis, they started a 2022 GoFundMe page to help aid refugees fleeing Russia's military violence in Ukraine, raising $34 million to date. His demanding businessman and acting responsibilities help increase his metabolic rate by encouraging the burning of more calories which keeps any excess fat weight at bay, thus allowing Ashton Kutcher to maintain his physique/figure.
His estimated net worth is $200 million. You can catch him on social media including Instagram, Facebook, TikTok, Youtube, and Twitter. See more former model, entrepreneur, businessman, venture capitalist, producer, and star Hollywood actor Ashton Kutcher celebrity Body Type One (BT1) photos on Google.
Review the Body Type Science Data or take the Scientific Body Type Quiz/Test for women and men.
---