---
---
Celebrity Body Types: Kaia Gerber (Kaia Jordan Gerber)
---
The Four Body Types Scientific Identification: Body Type One, BT1
Female/Woman
Genetically Underdeveloped Vertebrae (Muscles/Muscle Mass): None/0
Date of Birth: September 3, 2001
Age: 21 (as of 2022)
Unscientific/Nonsense Body Types Rough Correlations: Ectomorph, Kibbe/Flamboyant Natural, Hormone/Ovary
---
---
Celebrity Kaia Gerber shows off her Body Type One (BT1) shape figure/physique during her vacation. The
candid images reveal no real signs of skinny fat (cellulite, thin
fat, loose skin, saggy skin, crepey skin, normal weight obesity) anywhere on her body. The full
development of her vertebra (posture) and muscles/muscle mass is currently not in debate. 
Science recognizes that one pound of muscle burns six calories daily, but one pound of fat/skinny fat only burns two to three calories. Which directly affects metabolism (the more skinny fat and fat, the slower the metabolism). Having so many developed vertebrae, muscles, and muscle mass assists greatly in terms of metabolism/metabolic rate (BMR), including aging gracefully.
Genetics/genes/DNA are important, but diet, exercise, metabolism, BMI, and lifestyle also matter. As she continues to age, it will be interesting to see how well Kaia Gerber maintains her body shape figure/physique. Is she really a Body Type Two (BT2)?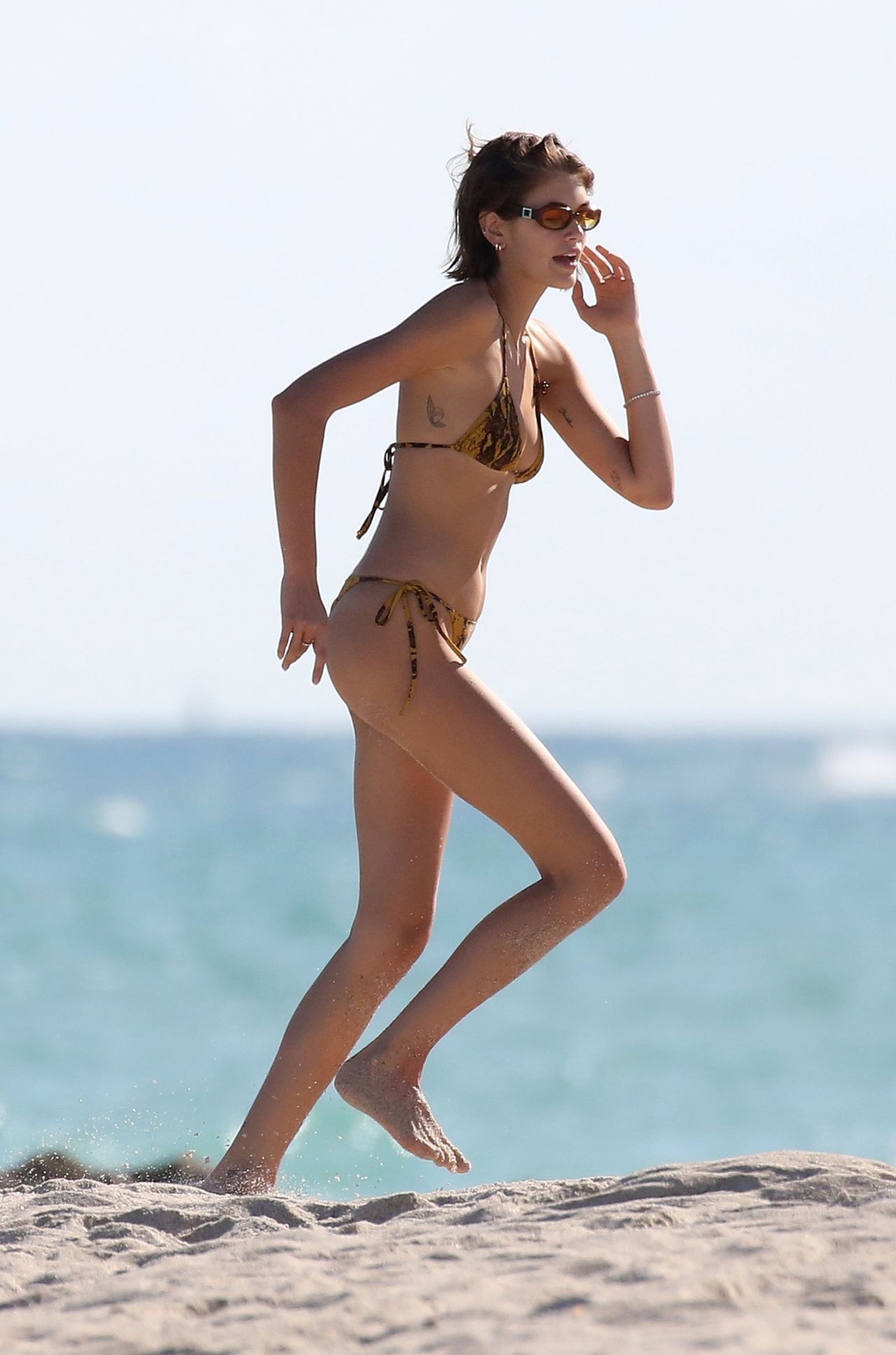 ---
---
---
Kaia Gerber

Figure/Shape – BT1
Model Kaia Gerber displays her Body Type One shape/figure while taking time off with friends and
family including her boyfriend Austin Butler. began modeling at
age 10, debuting on Versace's junior line,
Young Versace. Her first runway walk was for Raf Simons's Calvin Klein Collection in 2017 when she was 16. Moreover, her initial acting role came in Sister Cities (2016) when she was just 15.
To date, she has walked for the fashion houses Marc Jacobs, Burberry, Alexander Wang, Coach, Prada, Chanel, Fendi, Miu Miu, Max Mara, Givenchy, Bottega Veneta, Stella McCartney, Isabel Marrant, Alberta Ferretti, Loewe, Chloé, Sacai, Michael Kors, Moncler, JW Anderson, Longchamp, Tom Ford, Salvatore Ferragamo, Ports1961, Lanvin, Anna Sui, Moschino, Saint Laurent, Alexander McQueen, Valentino, and Versace, including during 2018 Spring Fashion Week. As well, she has been on the cover of the fashion magazines The Love Magazine, i-D, Teen Vogue, Pop Magazine, Vogue Paris, Vogue Japan, Vogue Italia, Vogue British, Vogue India, Vogue China, Vogue Magazine, and "The Book edition" for Vogue Netherlands.
Celebrity Actress & Model

Kaia Gerber

Body Type One
She also collaborated with Karl Lagerfeld to create her first collection, the KarlxKaia collection in
2018. Other campaigns include Jimmy Choo, Stella McCartney, Fendi, YSL, and Louis Vuitton. As a businesswoman, in 2020 she
was part of a group of high-profile investors who purchased the fashion magazine W magazine. Kaia Gerber's demanding modeling responsibilities likely help with maintaining her body shape figure by increasing her metabolic rate thus burning more calories to keep excess fat weight at bay. Her mother is supermodel Cindy Crawford and her father is Rande Gerber.
As for her acting credits, she has appeared in the FX television series horror anthology American Horror Story (2021) and its spinoff American Horror Stories (2021), the Apple TV+ miniseries Mrs. American Pie (2022), and the film Babylon (2022). Her next upcoming movie is Bottoms (2023). She has been romantically linked to Pete Davidson and Jacob Elordi.
Her net worth is estimated to be $6 million. You can catch her on social media including Instagram, Facebook, and Twitter. See more star Hollywood actress and fashion model Kaia Gerber celebrity Body Type One (BT1) photos on Google.
Review the Body Type Science Data or take the Scientific Body Type Quiz/Test for women and men.
---