---
---
Celebrity Body Types: Kate Hudson (Kate Garry Hudson)
---
The Four Body Types Scientific Identification: Body Type One, BT1
Female/Woman
Genetically Underdeveloped Vertebrae (Muscles/Muscle Mass): None/0
Date of Birth: April 19, 1979
Age: 44 (as of 2023)
Unscientific/Nonsense Body Types Rough Correlations: Ectomorph, Kibbe/Soft Natural, Hormone/Ovary
Learn How The Four Body Types Determines A Celebrity Body Type Like Kate Hudson
---
---
Celebrity Kate Hudson shows off her Body Type One (BT1) body shape figure/physique while taking time off at the beach with family and friends including her partner Danny Fujikawa. The fully developed vertebrae
(posture) and
muscles/muscle mass are currently not in debate. The candid images reveal no real signs of skinny fat (cellulite, thin fat, loose skin, saggy
skin, crepey skin, normal weight obesity) anywhere on her body.
Science recognizes that one pound of muscle burns six calories daily but one pound of fat/skinny fat only burns two to three calories. Which directly affects metabolism (the more skinny fat and fat, the slower the metabolism). Having all those developed vertebrae, muscles, and muscle mass assists greatly in terms of metabolism/metabolic rate (BMR), an advantage that a fully developed BT1 offers, along with aging gracefully.
Diet, exercise, lifestyle, metabolism, and BMI matter, but so do genes/genetics/DNA. As she continues to age, it will be interesting to see how well Kate Hudson manages and maintains her body shape figure/physique. Is she really a Body Type Two (BT2)?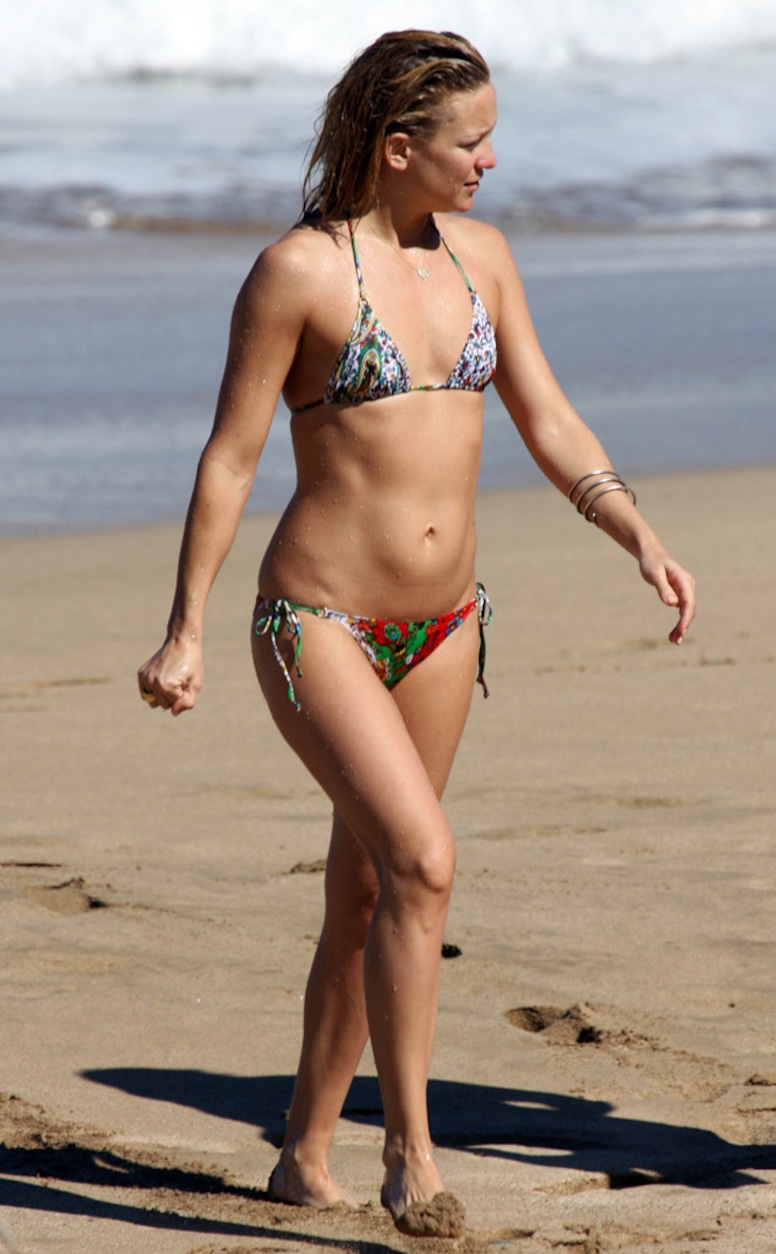 ---
---
---
Kate Hudson Figure/Shape- BT1
Academy Award-nominated A-list star Hollywood actress Kate Hudson
enjoys a day at the ocean in her Body Type One figure/shape. One has to ask, how much plastic surgery, Botox, and/or Scupltra has she done? Upon graduating from Crossroads in 1997, a college preparatory school in Santa Monica, she chose to pursue an acting career
instead of a degree at New York University. Paying her dues with small roles in television show episodes of Party of Five (1996, FOX) and EZ Streets (1997, CBS), she expanded to motion pictures with initial bit parts in the films Desert Blue (1998), 200 Cigarettes (1999), and Dr. T & the Women (2000). Breaking through with her critically acclaimed performance as Penny lane in the cult hit Almost Famous (2000), she was nominated for an Academy Award for Best Supporting Actress.
Over the years, her long list of diversely successful movies includes Gossip (2000), About Adam (2000), Ricochet River (2001), The Four Feathers (2002), Le Divorce (2003), Alex & Emma (2003), How to Lose a Guy in 10 Days (2003), Raising Helen (2004), The Skeleton Key (2005), You, Me and Dupree (2006), Fool's Gold (2008), My Best Friend's Girl (2008), Bride Wars (2009), Nine (2009), The Killer Inside Me (2010), A Little Bit of Heaven (2011), Something Borrowed (2011), The Reluctant Fundamentalist (2013), Wish I Was Here (2014), Good People (2014), Rock the Kasbah (2015), Kung Fu Panda 3 (2016, voice), Mother's Day (2016), Deepwater Horizon (2016), Marshall (2017), Music (2021), Mona Lisa and the Blood Moon (2021), Glass Onion: A Knives Out Mystery (2022), and A Little White Lie (2023).
Businesswoman & A-List Hollywood Star Hollywood Actress Kate Hudson Body Type One Shape
Moreover, she hosted the legendary NBC show Saturday Night Live (SNL) in 2000 while also appearing on the TV series
Glee (2012-2013, FOX), Running Wild with Bear Grylls (2015, NBC), and Truth Be
Told (2022, Apple TV+), to name a few. Her short-lived directorial run included the flick Cutlass
(2007). As a businesswoman, she co-founded the membership fitness brand Fabletics which is operated by TechStyle Fashion Group. As an author, she wrote the non-fiction books Pretty Happy: Healthy Ways to Love Your Body (2016) and Pretty Fun: Creating and Celebrating a Lifetime of Tradition (2017). Her demanding businesswoman and acting responsibilities likely help increase her metabolism, burning more calories to keep any excess fat weight at bay to assist with maintaining her body shape figure.
She has an estimated net worth of $80 million. You can catch her on social media including Instagram, Facebook, and Twitter. See more businesswoman, author, and A-list star Hollywood actress Kate Hudson celebrity Body Type One (BT1) photos on Google.
Review the Body Type Science Data or take the Scientific Body Type Quiz/Test for women and men.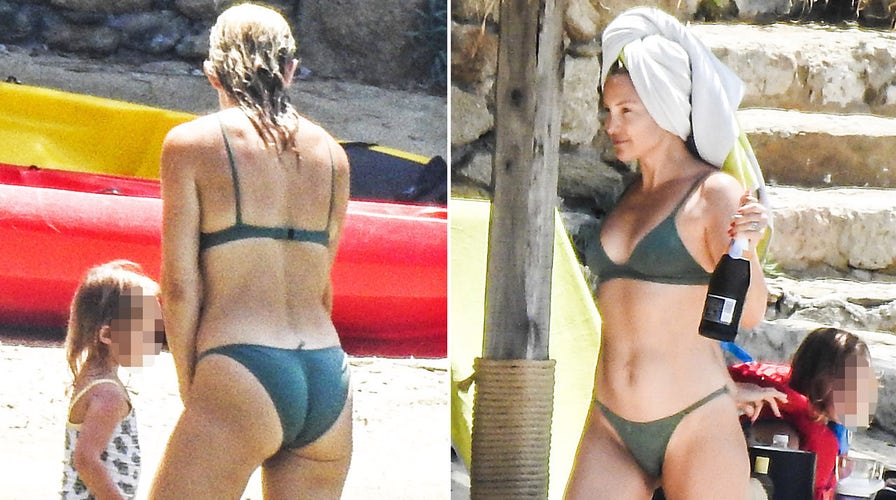 ---