---
---
Celebrity Body Types: Naomi Campbell (Naomi Elaine Campbell)
---
The Four Body Types Scientific Identification: Body Type One, BT1
Female/Woman
Genetically Underdeveloped Vertebrae (Muscles/Muscle Mass): None/0
Date of Birth: May 22, 1970
Age: 53 (as of 2023)
Unscientific/Nonsense Body Types Rough Correlations: Mesomorph, Kibbe/Flamboyant Natural, Hormone/Ovary
---
---
Celebrity Naomi Campbell shows off her Body Type One (BT1) shape figure/physique during her vacation at the ocean with friends and
family including her ex-boyfriend Vladislav
Doronin. The candid images reveal no signs of skinny fat (cellulite, thin
fat, loose skin, saggy skin, crepey skin, normal weight obesity) anywhere on her body. The full development of her vertebra (posture) and muscles/muscle mass is obvious.
Science recognizes that one pound of muscle burns six calories daily, but one pound of fat/skinny fat only burns two to three calories. Which directly affects metabolism (the more skinny fat and fat, the slower the metabolism). Even since giving birth to her first child, having so many developed vertebrae, muscles, and muscle mass assists greatly in terms of metabolism/metabolic rate (BMR), including aging gracefully.
Genetics/genes/DNA are important. But diet, exercise, metabolism, lifestyle, and BMI also matter. It will be interesting to see how well Naomi Campbell maintains her body shape figure/physique as she continues to age.
---
---
Naomi Campbell

Figure/Shape – BT1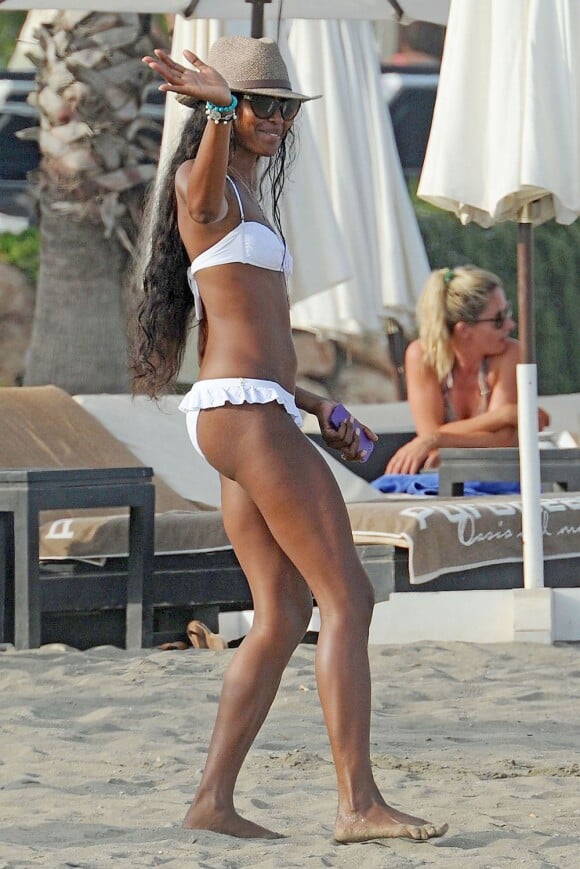 Supermodel Naomi Campbell displays her Body Type One shape/figure while taking time off at the beach. Her
entertainment career began in 1978 at the very young age of 8 when she appeared in a Bob Marley
music video for the song Is This Love. Having studied dance from age 3, including ballet, with the intention of being a dancer, she tap-danced in the Culture Club music videos I'll Tumble 4 Ya (1983) and Mistake number 3 (1984). However, as a student at the Italia Conti Academy of Theatre Arts, in 1986 her path led to modeling when she was scouted and signed by the head of the Synchro Model Agency, Beth Boldt, debuting on the cover of the British magazine version of Elle.
Her steady rise to fame over the next few years involved modeling and walking the catwalk for diverse famous fashion designers including Gianni Versace, Azzedine Alaïa, and Isaac Mizrahi. She also posed for the renowned photographers Peter Lindbergh, Herb Ritts, and Bruce Weber. By the late 1980s, while overcoming institutional racism and discrimination she formed the trio known as the "Trinity" alongside models Christy Turlington and Linda Evangelista, becoming the most in-demand and recognizable models of their generation.
Supermodel Naomi Campbell

Body Type One
Along with Turlington, Evangelista, Cindy Crawford, and Claudia Schiffer, she subsequently formed the elite group of models declared "supermodels" by the fashion industry. Newcomer Kate Moss was
eventually added to collectively become known as
the "Big Six". Interview magazine named Naomi Campbell the reigning supermodel of them all in 1990. However, despite representing her since 1987 and all her success, Elite Model Management fired her in 1993 on the grounds that "no amount of money or prestige could further justify the abuse" to staff and clients. Her long successful career boasts gracing British Vogue (appearing with Turlington, Evangelista, Crawford, and Tatjana Patitz), French Vogue (first black model), American Vogue (including the first time a black model graced the front of the September magazine, traditionally the year's biggest and most important issue), Italian Vogue (all-black version), Vogue Australia, Vanity Fair, Essence (40th-anniversary), Playboy, British GQ, and British Harper's Bazaar, to name a few.
As well, she has done advertising campaigns and walked for the likes of Dolce & Gabbana, Yves St. Laurent, Vivienne Westwood, Christian Dior, Marc Jacobs, Chloé, Diane Von Furstenberg, Prada, Chanel, Givenchy, Burberry, Zac Posen, Blumarine, Karl Lagerfeld, Gianfranco Ferré, Versace, Helmut Lang, John Galliano, Ralph Lauren, Jean Paul Gaultier, Tommy Hilfiger, Oscar de la Renta, Michael Kors, Anna Sui, Louis Vuitton, Hermés, Marchesa, Roberto Cavalli, and Valentino. Moreover, she partook in the closing ceremony of the 2012 Olympic Games modeling haute couture representing British fashion. She also appeared in music videos for Michael Jackson, Duran Duran, and Anohni. Naomi Campbell's demanding fashion and supermodel responsibilities help with maintaining her body shape figure by increasing her metabolic rate thus burning more calories to keep excess fat weight at bay. 
Businesswoman, TV Personality, & Actress

Naomi Campbell Body Shape
As a businesswoman, in 1995 she invested in the failed chain of restaurants called the Fashion
Cafe with fellow models Schiffer, Turlington, and Elle Macpherson. Her cosmetic and beauty contracts involve Cosmopolitan Cosmetics and NARS Cosmetics. She has appeared on the television shows The Face (Oxygen), The Face Australia (FOX), and The Face Britain (Sky Living), being named TV Personality of the year by Glamour Magazine in 2014.
Her acting credits include small roles in no less than the movies Miami Rhapsody (1995), Spike Lee's Girl 6 (1996), Zoolander 2 (2016), and I Feel Pretty (2018) as well as recurring roles on the second season of New York Undercover and the FOX drama Empire. She also delved into singing and authorship in 1994 with her lackluster album Baby Woman and her ghostwritten book/novel Swan. In terms of philanthropy, she is focused on human rights and equality, health, and natural disaster relief, donating to Nelson Mandela Children's Fund, Breakthrough Breast Cancer, and founding the charity Fashion for Relief, etc.
Her estimated net worth is $80 million. You can catch her on social media including Instagram, Facebook, Twitter, and TikTok. See more actress, television personality, singer, author, businesswoman, fashion model, and supermodel Naomi Campbell celebrity Body Type One (BT1) photos on Google.
Review the Body Type Science Data or take the Scientific Body Type Quiz/Test for women and men.
---