---
---
Celebrity Body Types: Chris Hemsworth (Christopher Hemsworth AM)
---
The Four Body Types Scientific Identification: Body Type One, BT1
Male/Man
Genetically Underdeveloped Vertebrae (Muscles/Muscle Mass): None/0
Date of Birth: August 11, 1983
Age: 39 (as of 2022)
Unscientific/Nonsense Body Types Rough Correlations: Mesomorph, Hormone/Adrenal
Learn How 

The Four Body Types

Determines A Celebrity Body Type Like Chris Hemsworth
---
---
Celebrity Chris Hemsworth displays his Body Type One (BT1) shape physique/figure at the beach with his
friends and family including his wife Elsa Pataky. The fully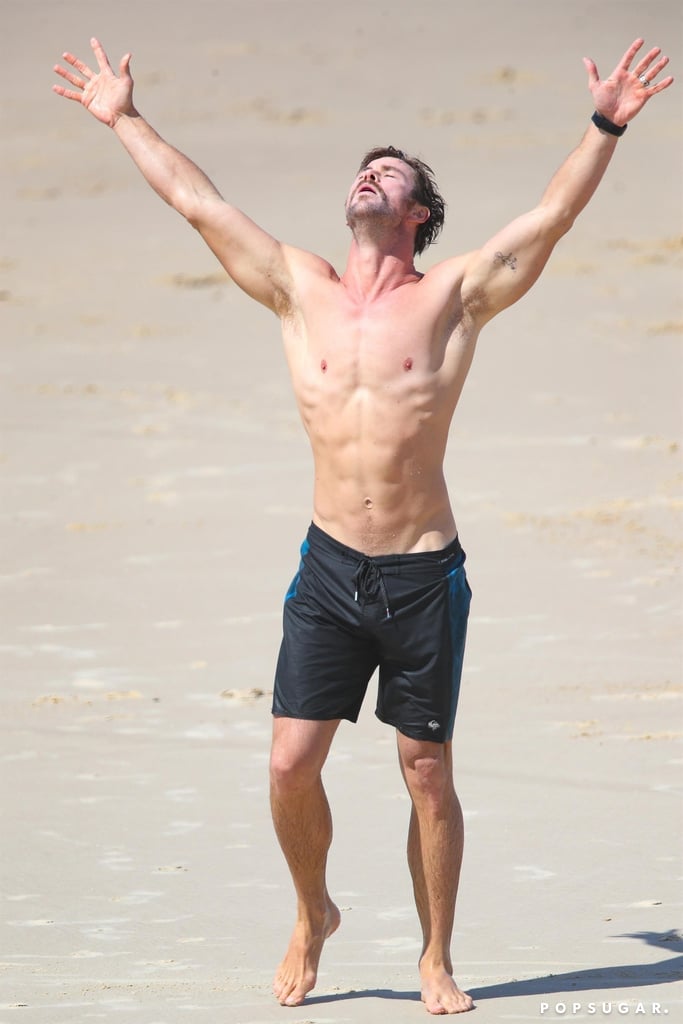 developed vertebrae (posture) and muscles/muscle mass are obvious. He is showing no signs of skinny fat (cellulite, thin fat, loose skin,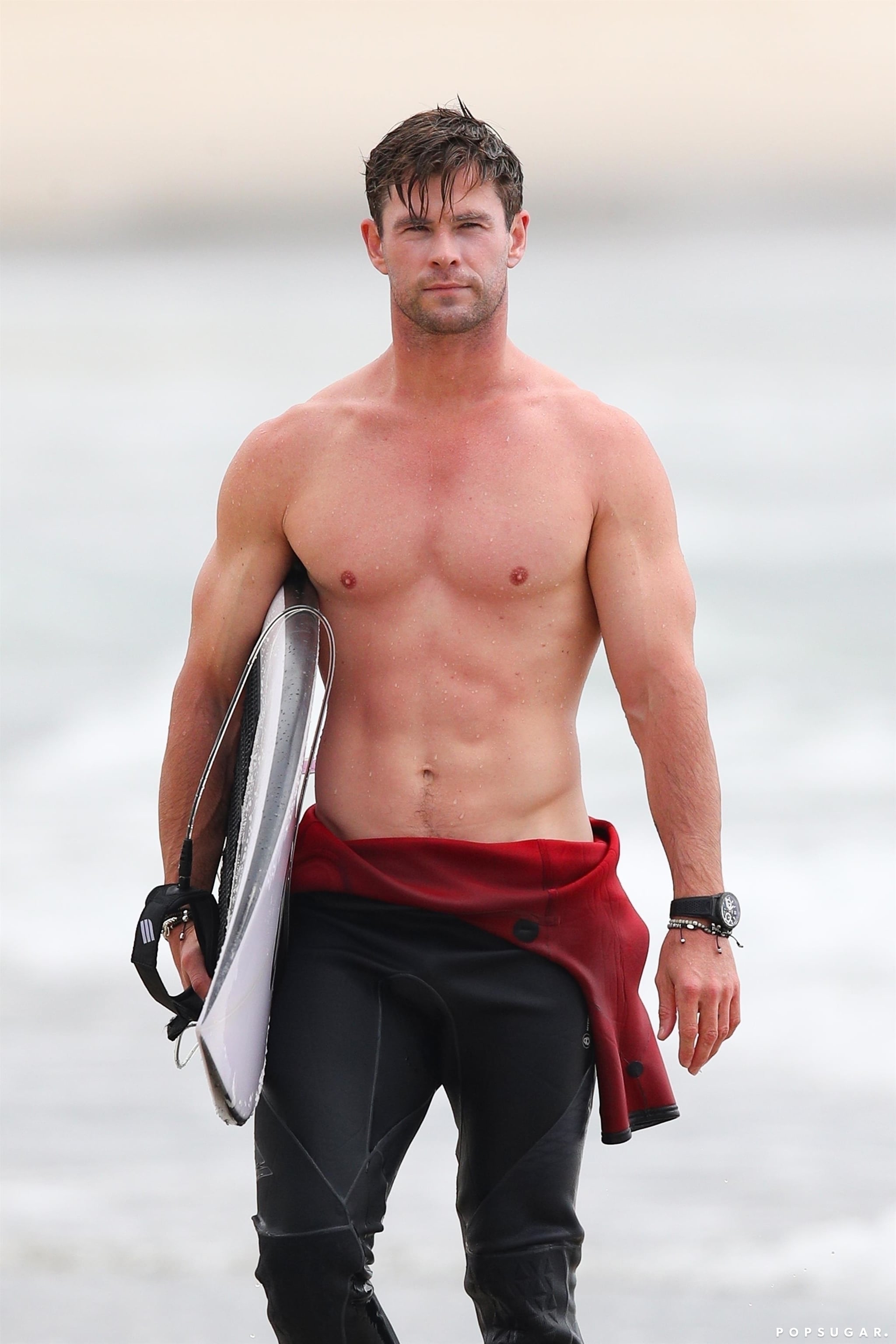 saggy skin, crepey skin, normal weight obesity) anywhere on his body.
One pound of muscle mass burns six (6) calories per day, but one (1) pound of fat mass only burns two (2) to three (3) calories daily. Which directly affects metabolism (the more skinny fat and fat, the slower the metabolism). Having a strong metabolism/metabolic rate (BMR) because of all that muscle and muscle mass, no less, is one of the many advantages that a fully developed BT1 offers.
Diet, exercise, lifestyle, metabolism, and BMI matter. But so do genes/genetics/DNA. It will be interesting to see how well Chris Hemsworth manages and maintains his body shape physique/figure as he continues to age.
---
---
---
Chris Hemsworth Physique – BT1
A-list superstar Hollywood actor Chris Hemsworth shows off his Body Type One physique/shape while taking time off and acting. His entertainment career began in 2002 with his
appearance in the television series Guinevere Jones (Network Ten in
Australia) as King Arthur. Paying his dues from 2002 to 2004, he had varying
roles on the shows Neighbours (Network Ten), Marshall Law (Seven Network in Australia), and The Saddle Club (Nine Network in Australia), finally breaking through in 2004 with more substantial work as Kim Hyde in the Australian soap opera Home and Away (Seven Network), appearing in 171 episodes.
Expanding his horizons, in 2009 he made his motion picture debut as James T. Kirk's father, George Kirk, in J. J. Abrams' film Star Trek. Diversly successful parts in A Perfect Getaway (2009) and Ca$h (2010) led to his starring role in the hit movie Thor (2011), skyrocketing him to fame. He is now the face of the Marvel Comics/Marvel Cinematic Universe (MCU) Thor franchise including Thor: The Dark World (2013), Thor: Ragnarok (2017), and Thor: Love and Thunder (2022) along with The Avengers (2012), Avengers: Age of Ultron (2015), Avengers: Infinity War (2018), Team Thor (2016), Doctor Strange (2016), and Team Thor: Part 2 (2017).
A-List Superstar Hollywood Actor Chris Hemsworth Body Type One Shape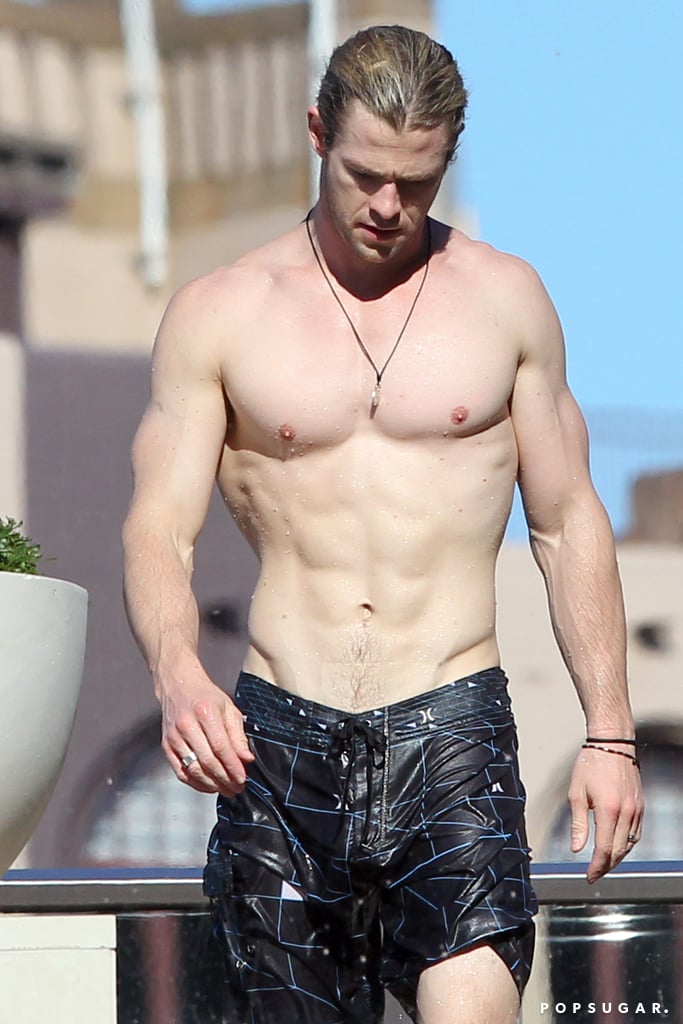 His movie credits to date include The Cabin in the Woods (2012), Snow White and the Huntsman (2012),
Red Dawn (2012), Star Trek Into Darkness (2013, voice cameo), Rush (2013), Blackhat (2015), Vacation (2015), In the Heart of the Sea (2015), The Huntsman: Winter's War (2016), Ghostbusters (2016), 12 Strong (2018), Bad Times at the El Royale (2018), Men in Black: International (2019), Jay and Silent Bob Reboot (2019), Extraction (2020), Interceptor (2022), and Spiderhead (2022). As for upcoming projects, he will star in Extraction 2 and Furiosa. Moreover, he has appeared on the television shows Dancing with the Stars (Seven Network), NBC's Saturday Night Live (SNL, 2015 host), Loki (Disney Channel), and Shark Beach with Chris Hemsworth (National Geographic), no less. 
In terms of accolades, he is one of the world's highest-paid actors, appearing on Forbes' World's Highest Paid Actors list in 2014, 2015, and 2018. He is also ranked 31st in the magazine's list of Highest Paid Celebrities in 2018 and 24th in 2019, earning an estimated $76.4 million. His demanding movie star career likely helps increase his metabolism, burning more calories to assist with maintaining his muscular body shape physique. 
He has an estimated net worth of $130 million. You can catch him on social media including Instagram, Facebook, TikTok, and Twitter. See more A-list Hollywood superstar actor Chris Hemsworth celebrity Body Type One (BT1) photos on Google.
Review the Body Type Science Data or take the Scientific Body Type Quiz/Test for women and men.
---