---
Celebrity Body Types: Christian McCaffrey (Christian Jackson McCaffrey)
---
The Four Body Types Scientific Identification: Body Type One, BT1
Male/Man
Genetically Underdeveloped Vertebrae (Muscles/Muscle Mass): None/0
Date of Birth: June 7, 1996
Age: 27 (as of 2023)
Unscientific/Nonsense Body Types Rough Correlations: Mesomorph, Hormone/Adrenal
---
---
Celebrity Christian McCaffrey displays his genetic scientific Body Type One (BT1) shape physique/figure while taking time off with friends and family including his fiancee Olivia Culpo. He is
showing no signs of skinny fat (cellulite, thin fat, loose skin, saggy skin, crepey skin, normal weight obesity) anywhere
on his body. The full development of his vertebrae (posture) and muscles/muscle mass is currently not in debate.
Science recognizes that one pound of muscle burns six calories per day, but one pound of regular fat (white fat/yellow fat/excess fat) and/or skinny fat only burns two to three calories. Which directly affects metabolism (the more skinny fat and/or regular fat, the slower the metabolism). Having a strong metabolism because of all that muscle and muscle mass, no less, is an advantage that a fully developed BT1 typically offers, including aging gracefully.
Diet, exercise, lifestyle, metabolic rate (BMR), and BMI matter. But so do genes/genetics/DNA. As he continues to age, it will be interesting to see how well Christian McCaffrey successfully maintains his body shape physique/figure
---
---
---
Christian McCaffrey Physique/Figure – BT1
Star NFL football player Christian McCaffrey shows off his Body Type One shape/physique during his vacation. He
began his rise to prominence in 2014 when, as one of the best one hundred football
players in his national high school class, he
was selected as a U.S. Army All-American. As a Rivals.com four-star recruit, he was ranked as the third-best all-purpose back in his class and 77th-best player overall nationally, eventually committing to Stanford University (Cardinal).
His superstar Cardinal career was highlighted by being a consensus All-American, Associated Press College Football Player of the Year, Pac-12 Player of the Year, Paul Hornung Award winner, and CoSIDA Academic All-American of the Year. In the 2016 Rose Bowl against Iowa, he became the first player to rush for over 100 yards (172) and have over 100 yards receiving (109) while setting a new Rose Bowl record with 368 all-purpose yards, He skipped his senior year to enter the NFL Draft. 
Star NFL Running Back Christian McCaffrey Body Type One 
Ranked one of the top five best running backs by Sports Illustrated, Pro Football Focus, NFLDraftScout.com, and ESPN, he was selected by the Carolina Panthers in the first round as the eighth overall pick in the 2017 NFL Draft. He was the second running back taken, after fourth overall pick Leonard Fournette. His long list of achievements includes holding the Panther's single-season records for most receptions by any player (116), most scrimmage yards by any player (2,392), most receiving touchdowns by a running back (6), most receiving first downs by a running back (41), and most receiving yards by a running back (1,005).
Moreover, he is the first player in Panthers history to reach 2,000 yards from scrimmage in a season, the most scrimmage yards by any player in first two seasons (3,051), the most scrimmage yards by any player in first three seasons (5,443), longest rush by a running back in franchise history (84 yards), and the franchise record for receiving yards by a running back in a single game with 121 receiving yards on 11 catches. 
After six successful seasons with the Panthers, he was traded to the San Francisco 49ers in 2022.
To date, he is credited with NFL records for:
most receptions by a running back in a single season (116)

only running back to have two seasons with 100 or more receptions

first player in NFL history to record over 1,000 rushing yards and 500 receiving yards in the first 10 games of a season

only the third player in NFL history to record over 1,000 yards rushing and 1,000 yards receiving in a single season, joining Marshall Faulk and Roger Craig.

first rookie running back in NFL history with 70 receptions and five receiving touchdowns

first player in NFL history with 50 rushing and 50 receiving yards in five consecutive games

most receptions by a running back in the first 3 seasons with 303 receptions

only the second running back in NFL history with 2000+ receiving yards in his first 42 games (shared with Herschel Walker)

only the second player in NFL history with at least 20 rushing TDs and at least 15 receiving TDs through their first three seasons

third most scrimmage yards in a single season in NFL history (2,392)
Christian McCaffrey Body Shape 
In 2018, he appeared with Jay Ajayi, Todd Gurley, and DeAndre Hopkins in a commercial for the NFL. His demanding professional NFL football running back responsibilities help increase his metabolic rate and encourage the burning of more calories which keeps any excess fat weight at bay, thus allowing Christian McCaffrey to maintain his body shape physique/figure. Ed McCaffrey, former Stanford and Denver Broncos NFL football payer, is his father. 
His estimated net worth is $10 million. You can catch him on social media on Instagram, Facebook, and Twitter. See more NFL star running back Christian McCaffrey celebrity Body Type One (BT1) photos on Google.
Review the Body Type Science Data or take the Scientific Body Type Quiz/Test for women and men.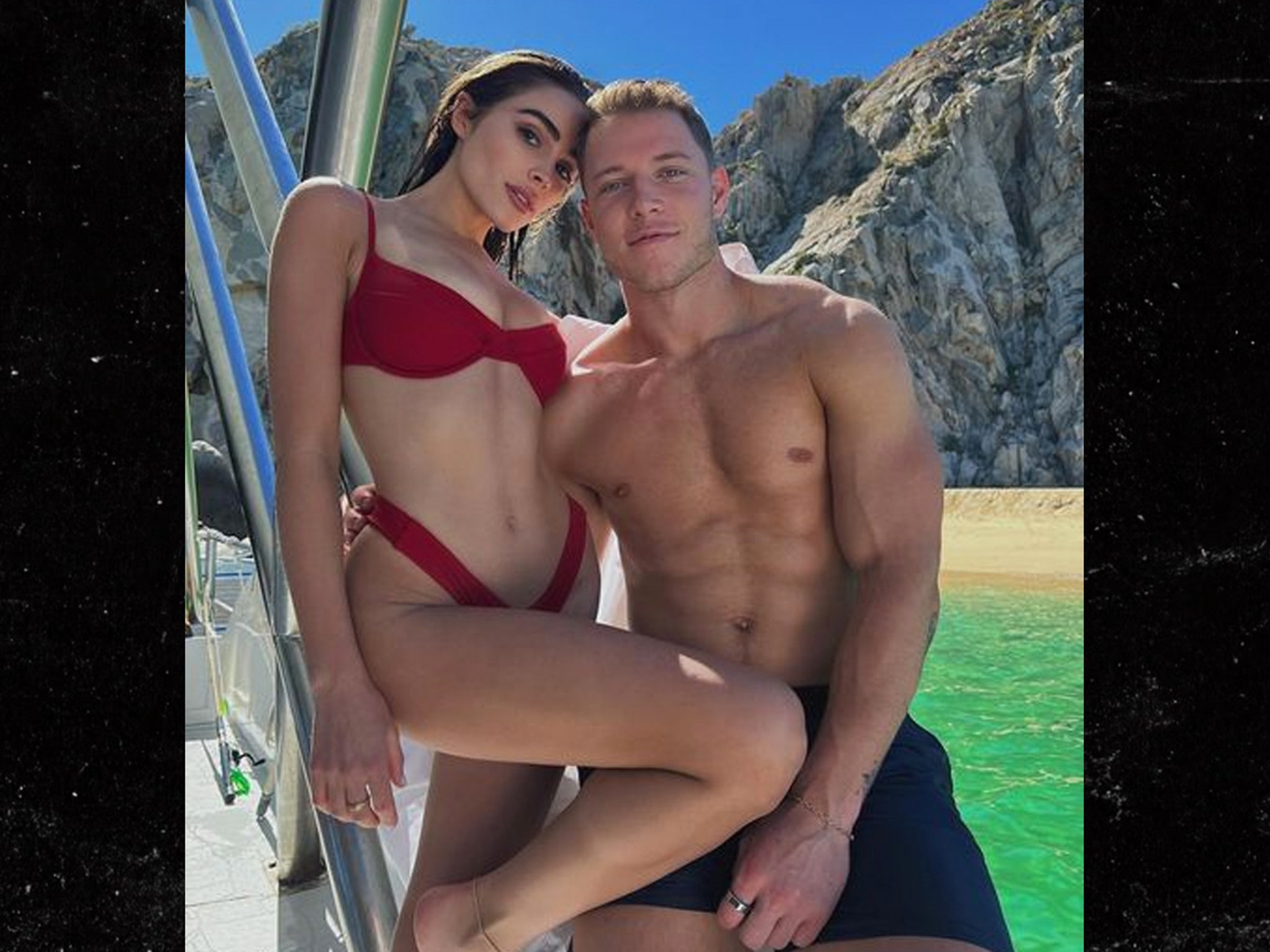 ---