---
---
Celebrity Body Types: Lili Reinhart (Lili Pauline Reinhart)
---
The Four Body Types Scientific Identification: Body Type One, BT1 (Possible Body Type Two)
Female/Woman
Genetically Underdeveloped Vertebrae (Muscles/Muscle Mass): None/0 (Possibly Lumbar)
Date of Birth: September 13, 1996
Age: 26 (as of 2022)
Unscientific/Nonsense Body Types Rough Correlations: Ectomorph, Kibbe/Soft Natural, Hormone/Ovary
---
---
Celebrity Lili Reinhart shows off her genetic scientific Body Type One (BT1) shape figure/physique while taking
time off with friends and family including her ex-boyfriend Cole Sprouse. The candid images reveal no real signs of skinny fat (cellulite, =
thin fat, loose skin, saggy skin, crepey skin, normal weight obesity) anywhere on her body,
although there are possible slight hints on her love handles and lower back. The full development of her vertebra (posture) and muscles/muscle mass is currently not in debate. 
Science recognizes that one pound of muscle burns six calories daily, but one pound of regular fat (white fat/yellow fat/excess fat) and/or skinny fat only burns two to three calories. Which directly affects metabolism (the more skinny fat and/or regular fat, the slower the metabolism). Having so many developed vertebrae, muscles, and muscle mass assists greatly in terms of metabolism/metabolic rate (BMR), including aging gracefully.
Genetics/genes/DNA are important, but diet, exercise, metabolism, BMI, and lifestyle also matter. As she continues to age, it will be interesting to see how well Lili Reinhart maintains her body shape figure/physique. Is she really a Body Type Two (BT2) with possibly a few slightly underdeveloped lumbar vertebrae, and maybe even a thoracic vertebra(e) and her sacrum?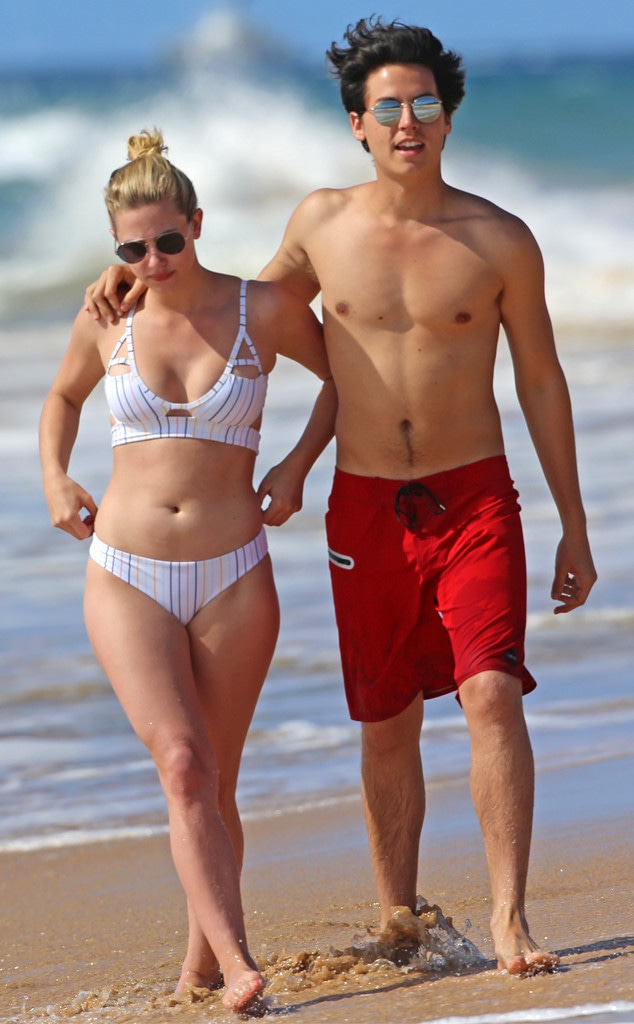 ---
---
---
Lili Reinhart Figure/Shape – BT1
Star Hollywood actress Lili Reinhart displays her Body Type One shape/figure during her vacation. Her entertainment career started at the young age of 14 when she appeared in the PBS television pilot for Scientastic! In 2011, she guest
starred on the popular NBC TV series Law & Order: Special Victims Unit and debuted in her first feature-length motion picture film Lilith. Paying her dues, she landed diverse roles in the movies Not Waving But Drowning (2012), The Kings of Summer (2013), Gibsonburg (2013), Forever's End (2013), Miss Stevens (2016), and The Good Neighbor (2016) as well as on the television show Surviving Jack (FOX, 2014).
Finally breaking through in 2016, her star skyrocketed to fame with her portrayal as Betty Cooper in The CW's teen drama TV series Riverdale, which is based on the characters of Archie Comics. She lent her voice to The Hateful Eight-Year-Olds episode of the legendary FOX animation show The Simpsons in 2020. As well, to date, she is credited with the films Galveston (2018), Hustlers (2019), Charlie's Angels (2019), Chemical Hearts (2020, executive producer), and Look Both Ways (2022, executive producer) 
Star Hollywood Actress, Singer, & Businesswoman Lili Reinhart

Body Type One Shape
She has also sung on numerous soundtracks including Forever's End (2013) and nine Riverdale Original Television Soundtracks (2018-2022). Moreover, as a businesswoman, in 2019, she
became the ambassador for American Express AmexGreen Card as well as a spokesperson and ambassador for CoverGirl. Not to be outdone, in 2020 she released the poetry book Swimming Lessons: Poems, reaching number 2 on The New York Times Best Seller list for paperback trade fiction.
In 2021, her production company Small Victory Productions signed a deal with Amazon Studios to develop original and adapted content for film and television with a focus on modern, young adult subject matter that celebrates and supports diversity, inclusivity, and new voices. Lili Reinhart's demanding acting and business responsibilities likely help with maintaining her body shape figure by increasing her metabolic rate thus burning more calories to keep excess regular fat weight at bay. She has been romantically linked to Jack Martin and Spencer Neville. In 2020, she came out as bisexual.
Her net worth is estimated to be $6 million. You can catch her on social media including Instagram, Facebook, Twitter, and Tiktok. See more businesswoman, singer, executive producer, and star Hollywood actress Lili Reinhart celebrity Body Type One (BT1) photos on Google.
Review the Body Type Science Data or take the Scientific Body Type Quiz/Test for women and men.
---