---
---
Celebrity Body Types: Hayden Panettiere (Hayden Lesley Panettiere)
---
The Four Body Types Scientific Identification: Body Type One, BT1 (Possible Body Type Two)
Female/Woman
Genetically Underdeveloped Vertebrae (Muscles/Muscle Mass): None/0 (Possibly Sacrum)
Date of Birth: August 21, 1989
Age: 33 (as of 2022)
Unscientific/Nonsense Body Types Rough Correlations: Ectomorph, Kibbe/Soft Gamine, Hormone/Ovary
---
---
Celebrity Hayden Panettiere shows off her genetic scientific Body Type One (BT1) shape
figure/physique while taking time off. The candid images reveal no real signs of skinny fat (cellulite,
thin fat, loose skin, saggy skin, crepey skin, normal weight
obesity) anywhere on her body, although there are slight hints on her upper legs and buttocks. The full development of her vertebra (posture) and muscles/muscle mass is currently not in debate. 
Science recognizes that one pound of muscle burns six calories daily, but one pound of regular fat (white fat/yellow fat/excess fat) and/or skinny fat only burns two to three calories. Which directly affects metabolism (the more skinny fat and/or regular fat, the slower the metabolism). Having so many developed vertebrae, muscles, and muscle mass assists greatly in terms of metabolism/metabolic rate (BMR), including aging gracefully.
Genetics/genes/DNA are important, but diet, exercise, metabolism, BMI, and lifestyle also matter. It will be interesting to see how well Hayden Panettiere maintains her body shape figure/physique as she continues to age. Is she really a Body Type Two (BT2) with a slightly underdeveloped sacrum vertebra and possibly a lumbar vertebra(e)?
---
---
Hayden Panettiere Figure/Shape – BT1
Grammy Award-nominated star Hollywood actress Hayden Panettiere displays her Body Type One shape/figure during her vacation with her friends and family including her ex-boyfriend Brian Hickerson. Her entertainment
career began at the very young age of eleven months, appearing in an advertisement for a
Playskool toy train. After landing a role on the ABC soap opera One Life to Live from 1994 to 1997, she
played Lizzie Spaulding on the CBS soap opera Guiding Light from 1996 to 2000. 
Expanding her horizons, her movie debut came as a voice actor in the 1998 animation A Bug's Life. Which led to a Grammy Award nomination for Best Spoken Word Album for Children for A Bug's Life Read-Along. That same year, at the age of 8, she first appeared in a feature-length motion picture film, The Object of My Affection, playing a mermaid in the school play in the opening scene.
She is credited with parts in no less than the movies Message in a Bottle (1999), Remember the Titans (2000), Joe Somebody (2001), The Affair of the Necklace (2001), The Dust Factory (2004, Raising Helen (2004), Ice Princess (2005), Bring It On: All or Nothing (2006), The Architect (2006), Shanghai Kiss (2007), Fireflies in the Garden (2008), Scooby-Doo! and the Goblin King (2008, voice), I Love You, Beth Cooper (2009), Alpha and Omega (2010), Scream 4 (2011), The Forger (2016, originally titled Carmel-by-the-Sea), Custody (2016), Scream (2022), and Scream VI (2023).
Singer & Star Hollywood Actress

Hayden Panettiere

Body Type One
Her long successful run on diverse television series includes episodes on the shows Touched by an Angel (CBS, 1999), Law & Order: Special Victims Unit (NBC, 2001, 2005), Ally McBeal (FOX, 2002), Malcolm in the Middle (FOX, 2003-2006), Commander in Chief (ABC, 2005), Heroes (NBC, 2006-2010), Punk'd (MTV, 2006-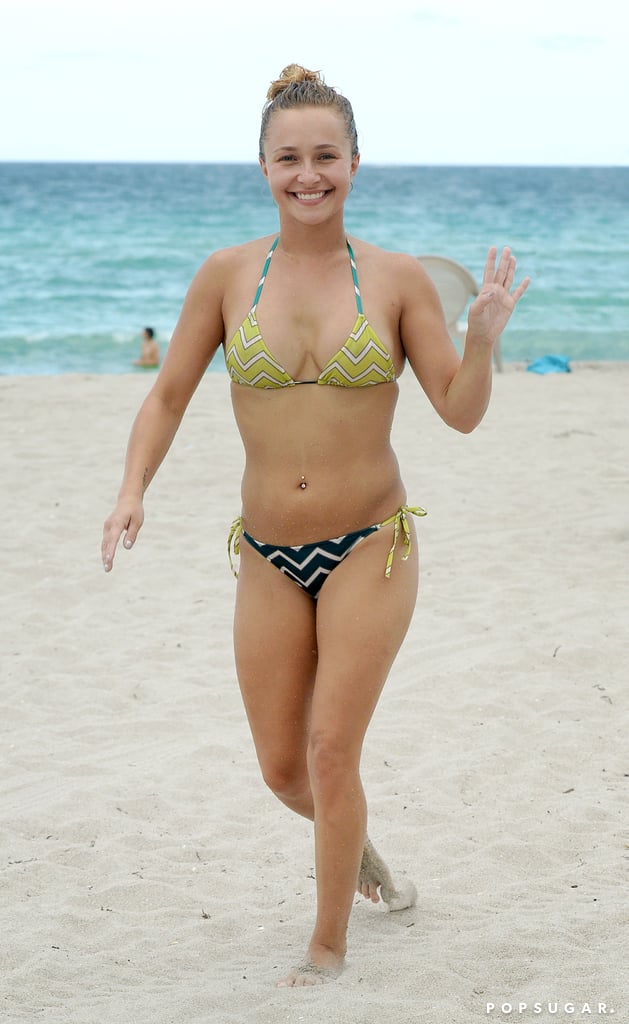 2012), Robot
Chicken (2007, Adult Swim/Comedy Central), American Dad! (FOX, 2010), Nashville (ABC/CMT, 2012-2018), as a judge on Chopped Junior (2016, Food Network), and Lip Sync Battle (2016, Spike/Paramount Plus), no less. 
Shifting her attention to singing, she recorded the 2004 song My Hero Is You for her starring role in the Disney Channel film Tiger Cruise. To date, she has released seven singles, with her best performing single being Telescope on The Music of Nashville: Season 1 Volume 1 album, reaching number 36 on the Billboard Hot Country Songs with 24,000 US sales. As well, her collaboration with Charles Esten produced the song Undermine, peaking at number 35 on the Billboard Hot Country Songs and selling 70,000 copies in the US. Moreover, her song Don't Put Dirt on My Grave Just Yet from The Music of Nashville: Season 2, Volume 2 album rose to number 34 on the Billboard Hot Country Songs and sold 470,000 copies. 
Model

Hayden Panettiere Body Shape
As a model, in 2006 she was the cover girl for the Neutrogena worldwide ad campaign. In 2007, she appeared in a Heroes-themed Got Milk? ad photographed by Annie Leibovitz. From 2007 to 2008, she designed limited edition
handbags for Dooney & Bourke and modeled their bags in magazine ads. In
2008, she was a spokesperson for Kohl's Candie's. Not to be outdone, in 2009 she was one of the celebrities featured in the coffee table book Room 23.
Her philanthropy and activism focus on the Ronald McDonald House Charities, animal rights including The Whaleman Foundation to stop dolphin hunting, supporting aboriginal rights, preventing teen pregnancy through Candie's Foundation, and advocating for domestic abuse victims, to name a few. Hayden Panettiere's demanding acting responsibilities likely help with maintaining her body shape figure by increasing her metabolic rate thus burning more calories to keep excess fat weight at bay. She has been romantically linked to Stephen Colletti and Wladimir Klitschko.
Her net worth is estimated to be $15 million. You can catch her on social media including Instagram, Facebook, and Twitter. See more model, singer, and star Hollywood actress Hayden Panettiere celebrity Body Type One (BT1) photos on Google.
Review the Body Type Science Data or take the Scientific Body Type Quiz/Test for women and men.
---