---
---
Celebrity Body Types: Kelly Clarkson (AKA Kelly Brianne, formerly Kelly Blackstock)
---
The Four Body Types Scientific Identification: Body Type Three, BT3 (Possible Weak Body Type Two)
Female/Woman
Genetically Underdeveloped Vertebrae (Muscles/Muscle Mass): 9 to 17; Mid-to-Lower Thoracic, Lumbar, Sacrum
Date of Birth: April 24, 1982
Age: 41 (as of 2023)
Unscientific/Nonsense Body Types Rough Correlations: Endomorph, Kibbe/Soft Gamine, Hormone/Thyroid
---
---
Celebrity Kelly Clarkson displays her Body Type Three (BT3) shape figure/physique while
enjoying a day off at the beach in her younger years as well as post-birth. The full development of her vertebrae (posture) and
muscles/muscle mass is debatable. The obvious excess fat and skinny fat (cellulite, thin fat, loose skin, saggy
skin, crepey skin, normal weight obesity) across her body, particularly cellulite on her buttocks and upper legs/thighs, no less, is likely due to an underdeveloped sacrum, lumbar, and lower thoracic vertebrae, at least. 
Science recognizes that one pound of muscle mass burns six (6) calories per day, but one pound of fat/skinny fat only burns two (2) to three (3) calories. Which directly affects metabolism (the more skinny fat and fat, the slower the metabolism). The more skinny fat on the body, the more probable that — anywhere there is skinny fat — excess fat will more readily accumulate in those areas and be very difficult to manage. This is especially true in relation to aging because metabolism is slowed, a further disadvantage of a Body Type Three human body. The skinny fat, excess fat, and most probably obesity became even more noticeable after she gave birth to her second child.
Diet, exercise, lifestyle, metabolic rate/BMR, and BMI matter. But so do genes/genetics/DNA. It will be interesting to see how well Kelly Clarkson manages her weight and body shape figure/physique as she ages.
---
---
---
Kelly Clarkson Figure/Shape – BT3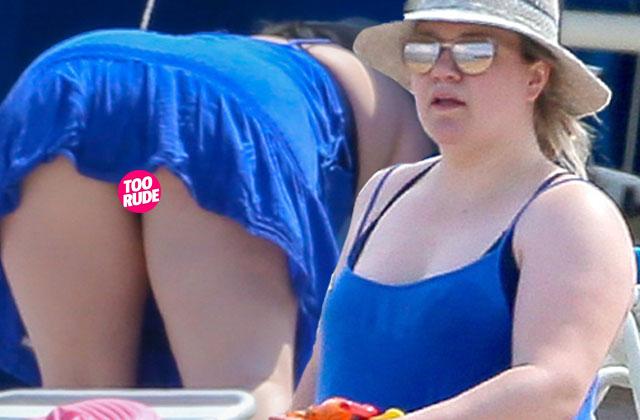 American Idol winner, five-time (5x) Daytime Emmy Award winner, and three-time (3x) Grammy Award-winning singer/songwriter Kelly Clarkson shows off her Body Type Three shape/figure during time off with friends and family. Of her 15 Grammy Award nominations, her music has won Grammy Awards for Best Female Pop Vocal Performance for the song Since U Been Gone in 2006 along with Best Pop Vocal Album in 2004 (Breakaway) and 2013 (Stronger), making her and Adele the only two artists to win the award more than once. Furthermore, she holds the record for most nominations for an artist in the Pop Vocal category.
She currently hosts the Kelly Clarkson Show on NBC. The popular show has garnered five (5) Daytime Emmywins including Outstanding Entertainment Talk Show Host in 2020, Outstanding Talk Show Entertainment and Outstanding Entertainment Talk Show Host in 2021 as well as Outstanding Entertainment Talk Show Host and Outstanding Talk Show Entertainment in 2022. Her ugly divorce from ex-husband Brandon Blackstock was recently finalized. Shortly after, she officially changed her name to Kelly Brianne. Basically, her middle name is now her last name, and she no longer has a middle name.
Emmy Award-Winning Talk Show Host & Grammy Award-Winning Musician Kelly Clarkson Body Type Three Shape
The demanding nature of performing at her live music concerts most probably helps increase her metabolism to burn more calories. Body positive/body positivity is not an acceptable excuse to normalize the disease of obesity and disregard health. However, fat-shaming, hating, trolling, and bullying are not acceptable either. Understanding your genetic scientific body type helps you figure out the best science-based diet, exercise, and lifestyle for your specific body type. 
She is estimated to have a net worth of $50 million. You can catch her on social media including Instagram, Facebook, Twitter, and TikTok. See more actress, author, television personality, songwriter, singer, and musician Kelly Clarkson celebrity Body Type Three (BT3) photos on Google.
Review the Body Type Science Data or take the Scientific Body Type Quiz/Test for women and men.
---