---
---
Celebrity Body Types: Kevin Hart (Kevin Darnell Hart)
---
The Four Body Types Identification: Body Type One, BT1
Male/Man
Genetically Underdeveloped Vertebrae (Muscles/Muscle Mass): None/0
Date of Birth: July 6, 1979
Age: 43 (as of 2022)
Unscientific/Nonsense Body Types Rough Correlations: Mesomorph, Hormone/Adrenal
Learn How 

The Four Body Types

Determines A Celebrity Body Type Like Kevin Hart
---
---
Celebrity Kevin Hart displays his Body Type One (BT1) shape physique/figure at the beach
with his freinds and family including his wife Eniko Parrish-Hart and family. The fully developed vertebrae (posture) and muscles/muscle mass are not in debate. He is
showing no signs of skinny fat (cellulite, thin fat, loose skin, saggy skin, crepey skin, normal weight obesity) anywhere on his body.
One pound of muscle mass burns six (6) calories per day, but one (1) pound of fat mass only burns two (2) to three (3) calories daily. Which directly affects metabolism (the more skinny fat and fat, the slower the metabolism). Having a strong metabolism/metabolic rate (BMR) because of all that muscle and muscle mass, no less, is one of the many advantages that a fully developed BT1 offers.
Diet, exercise, lifestyle, metabolism, and BMI matter. But so do genes/genetics/DNA. As he continues to age, it will be interesting to see how well Kevin Hart manages and maintains his body shape physique/figure.
---
---
---
Kevin Hart Physique – BT1
Emmy Award-nominated, Grammy Award-nominated, and A-list Hollywood star actor and comedian Kevin
Hart shows off his Body Type One shape physique while on vacation. His entertainment career began as a stand-up comedian, debuting at The Laff House in Philadelphia under the name of Lil Kev — it did not go well. After paying his dues enduring a slow start including being booed offstage several times and having a piece of chicken thrown at him once, he finally found his groove which led to his first comedy tour act titled I'm a Grown Little Man in 2009. He followed with Seriously Funny in 2010, Laugh at My Pain in 2011, Let Me Explain in 2013, and What Now? in 2015, the middle two of which were also released as movie theater features. Laugh at My Pain grossed over $15 million making it one of the year's top-selling comedy tours.
Branching out into television and motion pictures, he landed his first major recurring guest role on the Judd Apatow FOX TV series Undeclared in 2001 and his debut movie part in the 2020 film Paper Soldiers. His long list of movie credits to date includes Scary Movie 3 (2003), Along Came Polly (2004), Soul Plane (2004), The 40-Year-Old Virgin (2005), Scary Movie 4 (2006), Epic Movie (2007), Fool's Gold (2007), Meet Dave (2008), Drillbit Taylor (2008), Not Easily Broken (2009), Death at a Funeral (2010), 35 and Ticking (2011), Think Like a Man (2012), This Is the End (2013), Ride Along (2014), About Last Night (2014), Think Like a Man Too.(2014), The Wedding Ringer (2015), Ride Along 2 (2016), Central Intelligence (2016), The Upside (2017), Jumanji: Welcome to the Jungle (2017), Night School (2018), Hobbs & Shaw (2019), Jumanji: The Next Level (2019), Fatherhood (2021), Me Time (2022), and Lift (2023), to name a few.
His next projects are Back on the Strip and Borderlands.
A-List Star Hollywood Actor Kevin Hart Body Type One Shape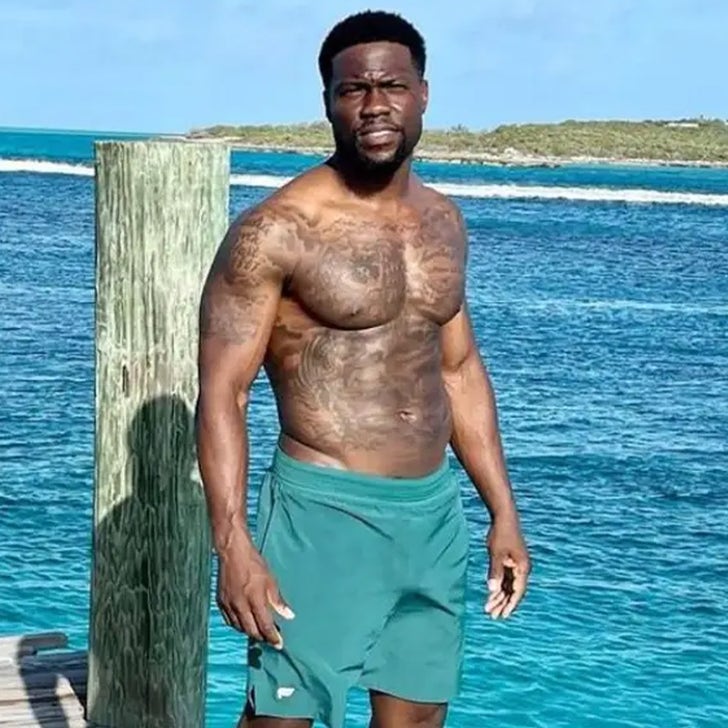 In terms of television, he has appeared on Barbershop (Showtime), Wild 'n Out (VH1), Modern Family (ABC), Real Husbands of Hollywood (BET), NBC's Saturday Night Live (SNL, host in 2013, 2015, & 2017), Kevin Hart: Don't F**k This Up (2019 Primetime Emmy Nominee for Outstanding Unstructured Reality Program ), Die Hart (2021 Primetime Emmy Nominee for Outstanding Actor in a Short Form Comedy or Drama Series), and the Netflix kids show True Story, no less. As well, his two Grammy Award nominations are for his 2018 Comedy Album What Now? (Best Comedy Album nominee) and 2022 Comedy Album Zero F***s Given (Best Comedy Album nominee). His demanding movie star career likely helps increase his metabolism, burning more calories to assist with maintaining his muscular body shape physique.
He has an estimated net worth of $450 million. You can catch him on social media including Twitter, Instagram, and Facebook. See more A-list Hollywood star comedian Kevin Hart celebrity Body Type One (BT1) photos on Google.
Review the Body Type Science Data or take the Scientific Body Type Quiz/Test for women and men.
---