---
---
Celebrity Body Types: Olivia Munn (Lisa Olivia Munn)
---
The Four Body Types Scientific Identification: Body Type One, BT1
Female/Woman
Genetically Underdeveloped Vertebrae (Muscles/Muscle Mass): None/0
Date of Birth: July 3, 1980
Age: 42 (as of 2022)
Unscientific/Nonsense Body Types Rough Correlations: Mesomorph, Kibbe/Dramatic Classic, Hormone/Ovary
Learn How The Four Body Types Determines A Celebrity Body Type Like Olivia Munn
---
---
Celebrity Olivia Munn shows offs her Body Type One (BT1) body shape figure/physique while on vacation at the
beach with friends and family including her partner John Mulaney. The fully developed
vertebrae (posture) and
muscles/muscle mass are currently not in debate. The candid images reveal no real signs of skinny fat (cellulite, thin fat, loose skin, saggy skin, crepey skin, normal weight obesity) anywhere on her body.
Science recognizes that one pound of muscle burns six calories daily but one pound of fat/skinny fat only burns two to three calories. Which directly affects metabolism (the more skinny fat and fat, the slower the metabolism). Having all those developed vertebrae, muscles, and muscle mass assists greatly in terms of metabolism/metabolic rate (BMR), an advantage that a fully developed BT1 offers, along with aging gracefully. 
Diet, exercise, lifestyle, metabolism, and BMI matter, but so do genes/genetics/DNA. It will be interesting to see how well Olivia Munn manages and maintains her body shape figure/physique as she continues to age, especially after giving birth. Is she perhaps a Body Type Two (BT2)?
---
---
---
Olivia Munn Figure/Shape – BT1
Star Hollywood actress Olivia Munn enjoys a day at the beach in her Body Type One shape/figure. Her demanding acting responsibilities likely increase her metabolism, burning more calories to help her keep in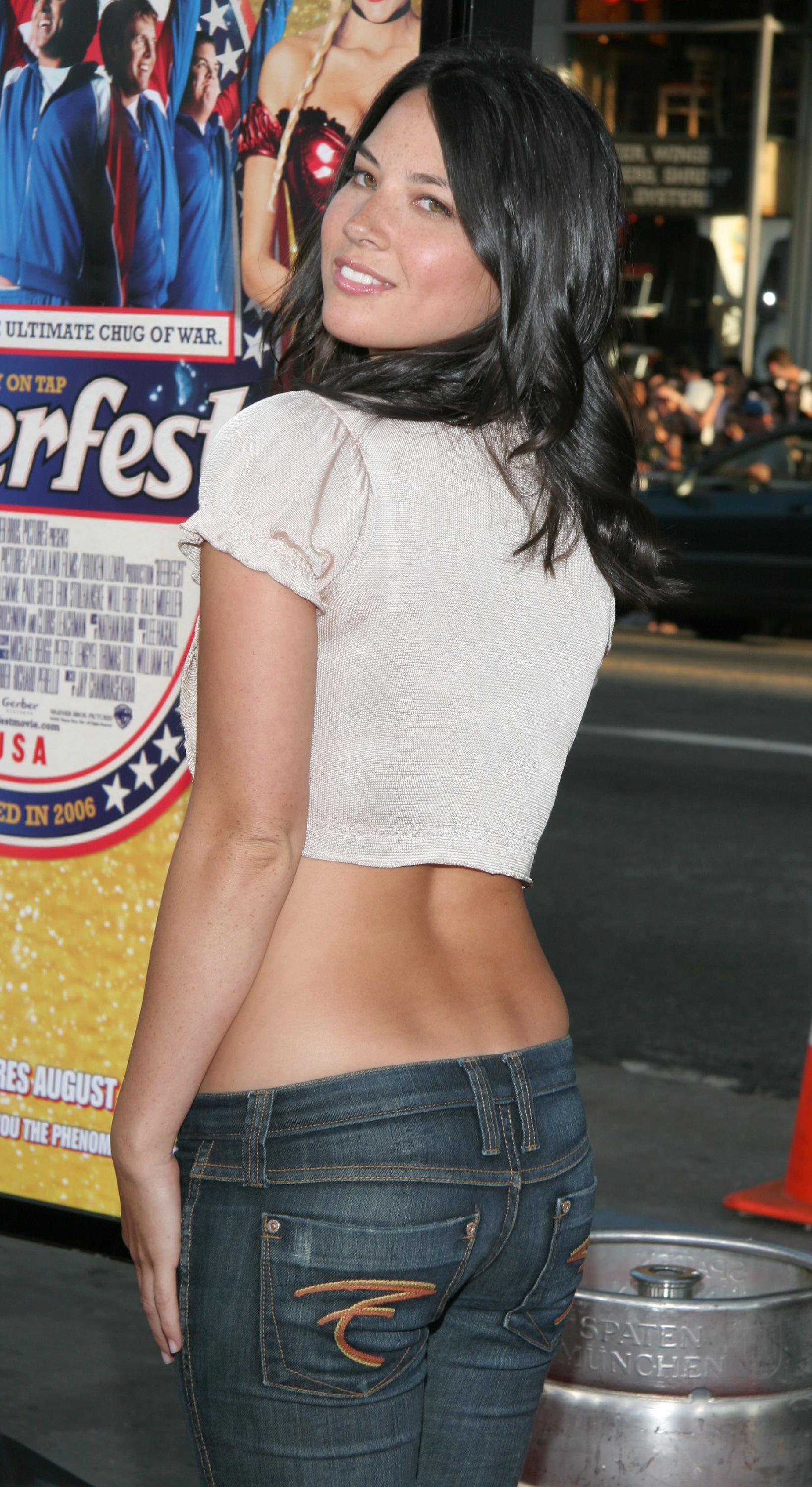 shape. Her entertainment career began after an internship at a news station in Tulsa, moving to Los Angeles to debut as a television host on the G4 gaming network series Attack of the Show! from 2006 until 2010. She paid her dues on The N network television series Beyond the Break (2006—2009), as a correspondent on The Daily Show with Jon Stewart from 2010 to 2011, and portraying Sloan Sabbith in Aaron Sorkin's HBO political drama series The Newsroom from 2012–2014 along with supporting roles in the films Big Stan (2007), Date Night (2010), Iron Man 2 (2010), and Steven Soderbergh's comedy-drama Magic Mike (2012).
Her movie credits to date include Freeloaders (2012), Deliver Us from Evil (2014), Ride Along 2 (2015), Zoolander 2 (2015), X-Men: Apocalypse (2016), Office Christmas Party (2016), The Lego Ninjago Movie (2017), Ocean's 8 (2018), The Predator (2018), The Buddy Games (2018), Dick Move (2019), Love Wedding Repeat (2020), Violet  (2021), Save Ralph (2021), America: The Motion Picture (2021), and The Gateway (2021). Moreover, she has appeared on the TV shows Perfect Couples (NBC), Robot Chicken (Adult Swim), New Girl (FOX), Six (History), The Rook (Starz), and Tales of the Walking Dead (AMC), to name a few. 
Star Hollywood Actress Olivia Munn Body Type One Shape
She recently opened up about her postpartum depression being an issue since giving birth to her son. However, numerous recent media reports indicate she appears to be adjusting well and enjoying her new life as a mom and parent alongside partner John Mulaney. She dated NFL quarterback Aaron Rodgers and famous actor Chris Pine previously.
Her net worth is estimated to be $15 million. You can catch her on social media including Instagram and Twitter. See more television host and star Hollywood actress Olivia Munn celebrity Body Type One (BT1) photos on Google.
Review the Body Type Science Data or take the Scientific Body Type Quiz/Test for women and men.  
---