---
---
Celebrity Body Types: Mariah Carey (Mariah Angela Carey, AKA "Songbird Supreme" or "Queen of Christmas")
---
The Four Body Types Scientific Identification: Body Type Two, BT2 (Possible Body Type One)
Female/Woman
Genetically Underdeveloped Vertebrae (Muscles/Muscle Mass): 1 to 8; Sacrum (Possibly Thoracic and/or Lumbar)
Date of Birth: March 27, 1970
Age: 53 (as of 2023)
Unscientific/Nonsense Body Types Rough Correlations: Ectomorph, Kibbe/Soft Natural, Hormone/Ovary
---
---
Celebrity Mariah Carey shows off her Body Type Two (BT2) shape figure/physique while taking time off at the
beach with friends and family including her partner Bryan Tanaka. After giving birth to two children,
the full development of her sacrum and lumbar
vertebrae and related muscles/muscle mass is debatable. The candid images reveal some skinny fat (cellulite, thin fat, loose skin, saggy skin, crepey skin, normal weight obesity) on no less than her upper legs and buttocks, indicating she most likely has at least a slightly underdeveloped sacrum vertebra and possibly a thoracic or lumbar vertebra, or several.
In her younger years, she might have been considered a Body Type One (BT1). Science recognizes that one pound of muscle mass burns six calories daily, but one pound of skinny fat/fat burns only two to three calories daily, which directly affects metabolism (the more skinny fat and fat, the slower the metabolism). The mostly developed vertebrae, muscles, and muscle mass across the majority of her BT2 is an advantage that Body Type Three (BT3) and Body Type Four (BT4) human bodies (female or male) generally lack.
Diet, exercise, lifestyle, metabolism, and BMI matter, but so do genes/genetics/DNA. As she continues to age, it will be interesting to see how well Mariah Carey maintains her body shape figure/physique. Is she really a Body Type One (BT1) and just experiencing extra fat weight or trauma due to giving birth to twins?
---
---
---
Mariah Carey Figure/Shape – BT2
Grammy Award-winning singer and songwriting A-list superstar musician Mariah Carey enjoys time off in her Body Type Two shape/figure. Her entertainment career began in New York City in 1988,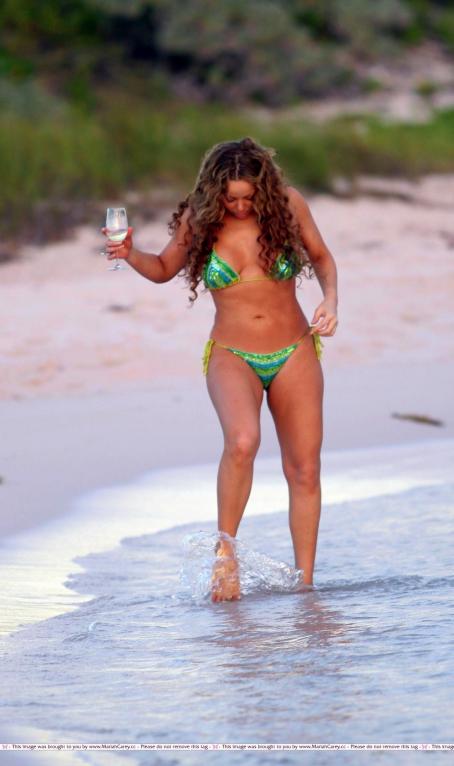 after landing a backup singing gig with singer Brenda K. Starr she attended a music executive's party where she met and gave the head of Columbia Records, Tommy Mottola, her demo tape. In 1990, upon signing a contract with Columbia Records, she debuted publicly at the 1990 NBA Finals performing America
the Beautiful so well that CBS Sports anchor Pat O'Brien declared "The palace now has a queen."
She subsequently released her first eponymous album that same year, becoming the first artist to have their first five singles, from "Vision of Love" to "Emotions," reach number one on the Billboard Hot 100. Over her expansive superstar music career, she has been nominated for thirty-three (33) Grammy Awards while winning five (5) for the song Vision of Love (1991, Best Pop Vocal Performance Female), Best New Artist (1991), The Emancipation of Mimi (2006, Best Contemporary R&B Album), and the single We Belong Together (2006, Best R&B Song and Best Female R&B Vocal Performance). As well, she has released fifteen studio albums, two soundtrack albums, eight compilation albums, four extended plays, and one remix album.
All of these have earned her nineteen (19) number-ones on the Billboard Hot 100, making her the solo artist with the most number-ones on the chart in history along with holding the record for the most number-one singles for a female songwriter (18) and a female producer (15). Her holiday album Merry Christmas is the best-selling Christmas album of all time. It sold over 15 million copies worldwide. The hit single All I Want for Christmas Is You is the first holiday song to be certified Diamond by the Recording Industry Association of America (RIAA).  
Superstar Grammy Award-Winning Musician & Actress Mariah Carey Body Type Two
Her list of musical accolades is long and numerous. It includes her five-octave vocal range, Billboard Hot 100
Artist of the Decade (1990s), being recognized as one of the best-selling music artists of all time with sales of over 220 million records worldwide, placing second on VH1's list of the 100 Greatest Women in Music, named "top-charting female solo artist" according to Billboard, and being a part of Time's annual 100 most influential artists and entertainers in the world,[as well as being regarded as one of the most celebrated singer-songwriters of her generation, to name a few.
Moreover, she is credited with merging hip-hop with pop music through her crossover artist collaborations. In terms of her acting career, she has had roles of varying success in the films The Bachelor (1999), Glitter (2001), WiseGirls (2002), Death of a Dynasty (2003), State Property 2 (2005), Tennessee (2008), You Don't Mess with the Zohan (2008, cameo), Precious (2009), The Butler (2013), A Christmas Melody (2015), Popstar: Never Stop Never Stopping (2016), The Keys of Christmas (2016), The Lego Batman Movie (2017, voice), Girls Trip (2017), The Star (2017), All I Want for Christmas Is You (2017), Mariah Carey's Magical Christmas Special (2020), and Mariah's Christmas: The Magic Continues (2021). She has also been an American Idol judge.  
Businesswoman

Mariah Carey Body Shape
Mariah Carey's body shape figure benefits from her demanding live concert and acting
responsibilities which help increase her metabolism, thus burning more calories to keep any
excess fat at bay. As a businesswoman, she has endorsed many brand products and services over the years including Intel, Elizabeth Arden, Jenny Craig, Amazon, Swarovski, Robert Earl, and McDonald's. In 2010, she launched an HSN collection of jewelry, shoes, and fragrances.
Not to be outdone, she published her memoir The Meaning of Mariah Carey in 2020 and premiered a new line of alcohol called Black Irish in 2021. Finally, as a philanthropist, she is interested in environmental sustainability, youth-related endeavors, adoption, social justice, police, hunger, poverty, and art, donating to no less than Fresh Air Fund (Camp Mariah), Make-A-Wish Foundation, Save the Music Foundation, Live 8 in London (performance), and World Hunger Relief Movement (ambassador). Her work has been honored with a Congressional Award. She was previously married to Nick Cannon and Tommy Mottola. Her net worth is estimated at $340 million.
You can catch her on social media including Instagram, Facebook, TikTok, and Twitter. See more businesswoman, record producer, singer, songwriter, actress, and A-list Hollywood superstar Mariah Carey celebrity Body Type Two (BT2) photos on Google.
Review the Body Type Science Data or take the Scientific Body Type Quiz/Test for women and men.    
---