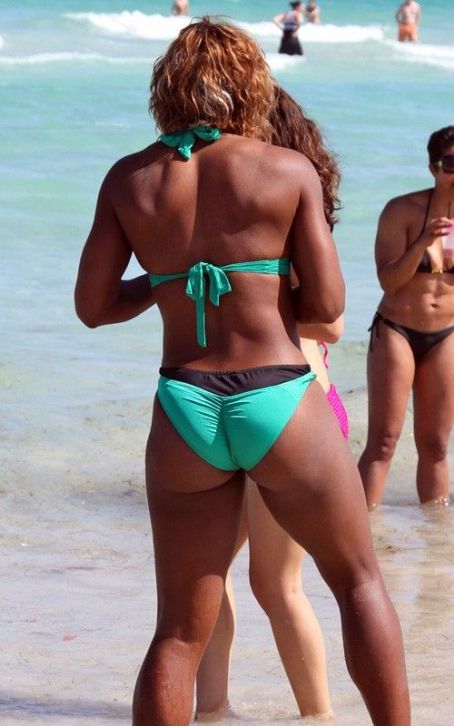 ---
---
Celebrity Body Types: Serena Williams (Serena Jameka Williams)
---
The Four Body Types Scientific Identification: Body Type Two, BT2
Female/Woman
Genetically Underdeveloped Vertebrae (Muscles/Muscle Mass): 1 to 8; Lower Lumbar, Sacrum
Date of Birth: September 26, 1981
Age: 40 (as of 2021)
Unscientific/Nonsense Body Types Rough Correlations: Endomorph, Kibbe/Curvy Flamboyant Natural, Hormone/Adrenal
---
---
---
Celebrity Serena Williams shows off her Body Type Two (BT2) figure/shape at the beach (minus husband Alexis Ohanian). The full development of her lumbar and sacrum vertebrae and muscles/muscle mass relative to posture, including Classic Arch and Dimples, is debatable. She most likely has at least a slightly underdeveloped sacrum vertebra. And perhaps one or two underdeveloped lower lumbar vertebrae as well.
The skinny fat including cellulite on her upper legs/thighs and buttocks, no less, is obvious, especially as she has aged.
Metabolism has strong tendencies to slow with age. In part, because one pound of muscle mass burns six calories daily, but one pound of skinny fat (cellulite, etc.) and fat burn only two to three calories daily. Diet, exercise, lifestyle, metabolism, and BMI matter, but so do genes/genetics/DNA.
It will be interesting to see how well Serena Williams manages and maintains her body shape figure as she ages.
---
---
Serena Williams Figure/Shape- BT2
Professional tennis player Serena Williams enjoys a day at the beach in her Body Type Two shape/figure with friends and family including her sister Venus Williams. She is still looking very good at the age of 40. The mostly developed posture, muscles, and muscle mass across the majority of her BT2 help her gracefully age.
As does all her hard work rigorously preparing for all those Grand Slam tennis tournaments including the US Open, Wimbledon, French Open, and Australian Open. Advantages that Body Type Three (BT3) and Body Type Four ((BT4) human bodies (female or male) generally lack. She was ranked singles world No. 1 on eight separate occasions by The Women's Tennis Association between 2002 and 2017. Her pro-tennis accomplishments land her as one of the greatest of all time (G.O.A.T).
You can catch her on social media including Instagram, Facebook, and Twitter. See more Sports Illustrated model, 23-time Grand Slam singles titles, and professional tennis player Serena Williams celebrity Body Type Two (BT2) photos on Google.
Review the Body Type Science Data or take the Scientific Body Type Quiz/Test for women and men.
---
Learn How

 The Four Body Types

Determines A Celebrity Body Type Like Serena Williams
---